I can't remember when I first saw Jeff's work, but I know that I have been aware of it for a while, and when I was looking around for people to feature in this series, I noticed that Wobblywood was top of the Folksy Best Sellers

.
I'm not surprised - the craftsmanship in this piece is obvious, even is the lack of mechatronics is not - but the tactile qualities here must surely be addictive.

Click Play to see what I'm talking about.
I was intrigued about Jeff's

background, and it turns out that he took

a rather

circuit

o

us route that many artists end up taking.



Jeff Soan
I studied Art and Design at Goldsmith's College in the
late 60's, taught for a few years, travel

l

ed for a while

, before getting

married and star

ting

a family in the 70'

s

, when I star

ted

a building business

.
After 18 years in the building trade, I needed to start something new and enrolled on a toy making course at London College of Furniture, and set up my garden workshop in 1

987.
Discovering The Product
My first sales were made at the local craft market in Greenwich

-
I was known as the penguin man when I started because of the success of my waddling penguins

.
After a year of selling many new designs I started making a version of a Chilean folk toy - a wobbly rat, created by cutting the wood into narrow sections and securing it to canvas

-

t

hat had been my motivation in taking the toy making course in the first place.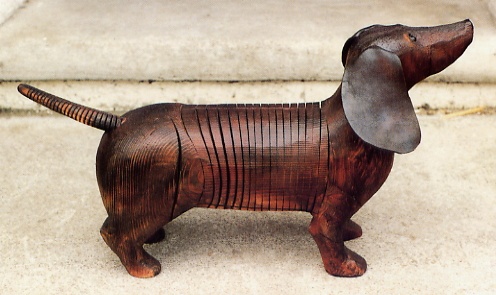 This is not a rat - although my husband may disagree - Lu
I try to express the essential nature of the animals, birds,
and fish I create, sometimes by simplification, sometimes by
attention to detail and very often by the sinuous movement
achieved with the technique of articulation.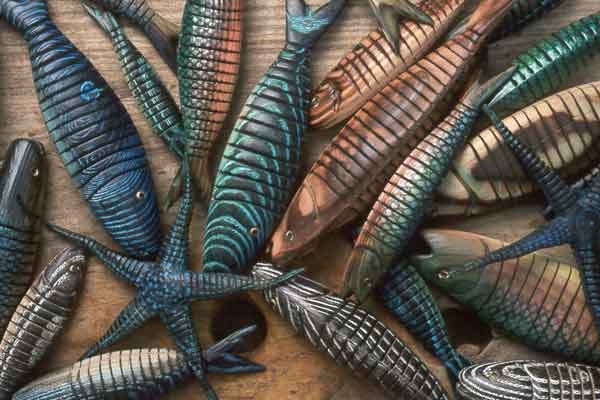 The first week I took some articulating fish to the market I realised that this was the future for me because they sold so quickly and a TV producer was passing and asked me to take part in a craft programme called "Handmade"

.
Achieving Sales
The real turning point was The Craft Council's
prestigous

Chelsea Craft Fair in 1991

.

There was so much work that I needed help, and Julia Darke has worked with me ever sinc

e.
A couple of years ago I decided to do more direct shows and stop supplying the galleries to extent I had been doing for many years. It was such a good decision. My cash flow immediately improved . I used to have continual cash crises because of the Sale or Return culture ( return? when did I ever get anything back?) and 100% plus mark up that most galleries operate.
So now I get involved in Craft in Focus shows, which ha

ve

good promotion and advertising;
I'm a guest at shows that the Sussex Guild put on

;

and

one of the best shows in the year is Art in Action, which has a fantastic reputation.
I still supply the occasional exhibition maybe two or three a year. I am currently involved with the OneOak project
and we have Open Studios here in Brockley in July and in Brighton in May, which advertised

m

ainly via word o
f mouth.
I sell online via Folksy linked to from my website which is from where most of the sales derive.
I'm not sure if anybody finds m

e on Folksy itself.
Getting Known
I sell well at shows and enjoy the feedback and ideas that people give me and give out hundreds of pictorial business cards which results in continual flow of work direct from the customer. I have a few very successful pieces which continually sell.
I have tried Facebook and Twitter for business but use neither now - I think I must be missing something.
I have a
blog which is a mixture of work and life events. I started it when I injured my hand and couldn't work so I had plenty of time. Now it is a struggle to keep it up to date.
Becoming Successful
I think that making things that I want to make and the fact that I'm still excited by it and being able to sell them is success in itself. That I can sell enough to pay an assistant and support my family and re invest back into the business seems pretty good too
Making enough money to also take time off from it is something I haven't managed though. That seems like real success.
That said
,
I measure success in terms of happiness. I am happy, inventive and creative on a daily basis and my work seems to delight people
And

W

hat About That Royal Seal Of Approval?
I have been involved with making creatures for the Cutty Sark and they wanted me to make something for the Queen when she opened the ship this year. In the end they gave her Twinings tea.
Later they had a dinner to which the Duke of Edinburgh was invited and they presented him with one of the seals I made from the deck planks. I was dead keen for some Royal or other to have one because I just wanted to head a picture with "Royal Seal of Approval" I got a wonderful quote from him " a craftsman at the top of his game"
***
Wow! Well after no blogging for a while, I got a bit carried away there - but it was hard not to really. If you like the look of Jeff's work, why not visit his website

and tell him what you think. And while you're feeling communicative, drop me a comment here too! What tips do you have for running a successful business?

- Lu
Next Time Suzanne Crawford and Coverupsurf