When I was carrying out research in advance of this blog series, I found that there was a lot of (heated)

discussion about whether a 'supplies' seller could be mentioned in the same breath as a

'

handmade

' seller.

But how could I not feature the

BIGGEST UK Etsy seller

-

fellow Craftfester, Nicole De Bruin

?
Nicole De Bruin

I started off doing scrapbooking until a friend asked me to make her some adult birthday invitations, after that I made handmade cards for 5 years, somewhere along those five years I started putting detachable key rings on my cards, which proved very popular. We had an opportunity to go to Austria with my husbands company in 2008 , so although I packed up all my charms and key rings and took them to Austria with me, I didn't have the social network to sell many cards.
One day I was reading someone's blog and they mentioned opening an Etsy shop, I went to look and opened one too, I didn't list anything straight away but did look around for the European equivelant and found DaWanda, where I listed and sold some of my cards, but I realised that shipping them was very difficult and risky and decided to sell the charms themselves instead.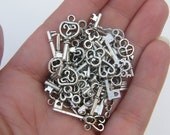 When I did this, I also began listing on Etsy. My first sale on Etsy was a huge surprise to me, as I had only listed 10 things and really wasn't expecting to be found amongst the hundreds of things listed. From there it just grew, as I had more sales, I invested the money to buy more stock and so my business grew.
I've never really done any promotion.
I sold on DaWanda for about a year, Coriandr and Artfire for a while, Bonanzle for about 5 minutes, but none of these sites have the traffic that Etsy does and I found it wasn't worth splitting my stock over more than one place, so now I only sell on Etsy, but do plan to start my own website some time in the future.
I feel success is achieving whatever goals you set yourself, it could be as simple as letting 10 people into the traffic that day.
I felt that I was successful once I started getting sales everyday, because I sell supplies we need a high turnover as our profit margins are low.
I attribute my success to good customer service, to having named my shop by my name, as I always sold my cards under my name and thus having buyers see me as a person. Listing in Dollars so that the Americans aren't

put off my shop by first seeing the amount in Pounds and then a higher amount in Dollars as well as many of them not realising I am not in America until it's too late and they have already placed their order.
I have set up a coupon code for your blog readers, it is Blog25 this will give them a 25% discount.
So, I think that that counts as success worth stalking! What do you think? And can you see the same similarities that I can in the approach that Suzanne and Jeff have as well?