When I was looking for businesses to feature in this Stalking Success series

,
Barry Bulsara was another one of those names who kept popping up in various places - maybe its because a lot of his work appeals to

my
inner geek.
Barry Bulsara
Well I'm 38, live in Loughborough a small university town in Leicestershire. I've always been creative, from an early age I was always painting, drawing or making some sort of space ship from empty washing up liquid bottles and such. But it wasn't until my secondary school art teacher Mrs Sheffield gave me a sketchbook and pencil for doing well on my homework that I realised that I might actually have a future in art & design. I didn't realise until I went to university that I was dyslexic, so that probably explains why I spent so much of my time doing art as I wasn't very good at much else! I ended up taking the usual route, A'levels an art foundation course and then a degree in Graphic Design. Then sold my creative soul and got a job as a Graphic designer

.
Discovering The Product
Last year I wanted to get back in to my art as I found my day job wasn't giving me creative satisfaction, so enrolled onto a weekend screen printing course at the Leicester Print Workshop and have been hooked ever since!
I used to produce large canvas painting and have them on display in local bars in Leicestershire but after the recession they stopped selling so I needed to find another commercial creative outlet, screen printing is ideal as it allows me to be creative with my designs and as my prints are in edition of between 100 to 500 it means I can sell individual prints at affordable prices.
Achieving Sales
Only a few months after I learnt to screen print. I had a number of designs and set up my Folksy shop and started to get regular orders, which only encouraged me to produce more.
Getting Known
I've been very fortunate that a small pub chain in my area called the Orange Tree display some of my work in their bars around Leicestershire and Nottingham, but I'm always looking for new places to exhibit.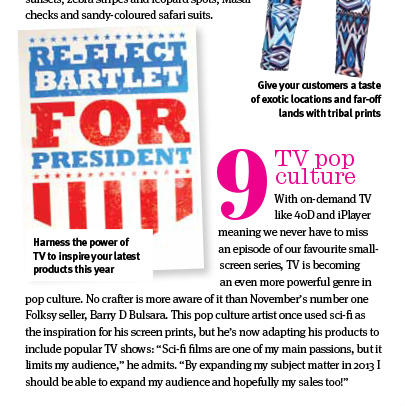 I also try and do as many craft fairs as time allow

, and
I promote my work through my blog

,

Facebook page and
twitter.
There are some one off boosts as well - I was just in Craftseller magazine

...
but, also, t

he news rep

or

ter Samira Ahmed recently got in touch asking if she could use a picture of one of my prints to illustrate a story on her blog, that was cool!
Becoming Successful
I consider myself more fortunate than successful, fortunate that I have a talent and as I make my work soley to please and amuse myself. I consider it happy accident that there are people out there that are prepared to part with their hard earned cash to buy it.
So, what do you think of Barry's work? Tell us which of Barry's pics is your fave - and feel free to include quotes from Star Wars in your comments!
(And if you like this blog post, maybe you'd also be kind en

ough to give it a

Craftjuice vote here)